The following are samples of tentative lectures, activities, and excursions the program will provide. These are subject and a final itinerary will be posted on this site closer to departure.
Sample Lectures
Survival Korean Language
Historical Overview: Past, Present, and Future of Korea
Korea-U.S. Relationship
Korean Society as seen by Americans
Sample Activities and Excursions
Shinchon Tour
Shinchon refers to the area around Yonsei University as well as Ewha Woman's University and Sogang University. Here you will find numerous coffee lounges, restaurants, snack bars, beauty salons, clothing and accessory shops, cinemas, theaters, jazz cafes, department stores, and shopping centers all catering to students. This will be lead by Yonsei students along with CIEE Chaperones.
Demilitarized Zone (DMZ) Tour
One of the quintessential things for all people visiting Korea to see, this excursion typically includes visits to: Imjingak, Freedom Village, The 3rd tunnel, The Bridge of No Return, Panmujeon and more. Arrangements will be made by the Korea Foundation with assistance from the U.S. Army so details are subject to change.
City tours in Seoul
Students will tour sites of historic and cultural importance by bus and on foot. Tour may include, but is subject to change:
National Museum of Korea
A window to the history of Korea, the National Museum of Korea displays 16,000 relics (as of June 2008). It is the largest museum in Korea, proudly exhibiting not only Korean cultural properties but also works of art from across Asia.
Cheonggyecheon Stream
A walk along Cheonggyecheon Stream features many interesting sights. You'll get to see nature in the city and experience the vivid history and culture of Korea.
Insadong
Insadong is the place in Seoul for visitors wanting to experience traditional aspects of Korean culture such as art galleries, traditional craft stores, antique art dealers, traditional tea houses, and restaurants. In 1999, Queen Elizabeth II visited the area and heaped praise upon the old artworks she saw.
Gyeongbokgung Palace
A massive complex, Gyeongbokgung Palace is the grandest of Seoul's palaces. Highlights include the ornate, two-story Geunjeongjeon, the main palace where kings were crowned, met foreign envoys and conducted affairs of state and the Gyeunghoeru Pavilion. Also within its grounds is the National Folk Museum of Korea.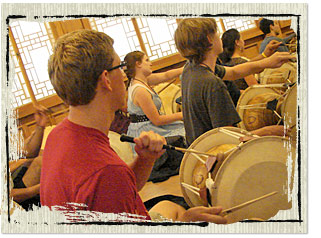 Homestay with South Korean Family
A highlight of the program, allowing students to immerse themselves further into the Korean culture, students will participate in a homestay with a Korean family. Arrangements will be made by the Korea Foundation and Yonsei University to place students in homes for the weekend and return to Yonsei Sunday night. From this experience, students will learn about customs and traditions in Korean houses and experience modern day living in Korea – homestays are one of the best ways to truly experience a culture and its customs.

Prior to arrival with their homestay, students will have met their host siblings during interactive activities. This will ensure the students will feel comfortable with their home stay host sibling. Korean homes are traditionally very compact, so in most instances, a one-to-one match will be made for the homestay.
Tour of Hanok
Students may have the chance to visit a traditional Korean Village.
Taekwondo class
Taekwondo is a Korean martial art and is also the national sport. Take part in this class and learn some traditional techniques.