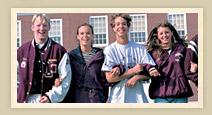 Foxcroft Academy
Location: Maine
Biography
Foxcroft Academy was founded in 1823 and is one of the oldest private day and boarding schools in America. Foxcroft Academy, located in Maine, serves a co-ed population of 410 day and boarding students in grades 9-12.
The Academy offers a challenging college-preparatory curriculum, including 142 course offerings including 32 Honors Courses and 21 Advanced Placement courses, including online courses. Foxcroft Academy's math and science programs exceed national standards and utilize state-of-the-art technology. Students in Foxcroft Academy's well-known humanities program understand the culture of an era through a study of its history, literature, art, and music. The foreign language program includes four levels of French, Latin, Chinese, and Spanish.
In addition to the traditional offerings, students may take courses in music composition, web-design, art history, economics, computer-assisted drawing, personal finance, vocational subjects, and ethics. Foxcroft Academy offers a comprehensive ESL program for the international student who is planning for a university education. Students receive individual testing before placement at one of three levels of ESL, including ESL Writing.
Quick facts
Housing Options: Boarding or Family Homestay
Tuition and Fees: specific tuition and cost information available from your in-country representative
ESL: Yes
Specific Application Requirements:

Grade levels 9-12
GPA of 2.5
SLEP score of 54
Skype interview required

School Website: www.foxcroftacademy.org