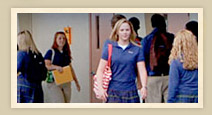 St. Thomas Aquinas High School
Location: New Hampshire
Biography
St. Thomas welcomes students from all faiths and backgrounds. Here students feel welcome, safe, and accepted, free to express their own opinions.
Simultaneously, St. Thomas challenges its students to think beyond themselves. Programs such as Campus Ministry, Facing History and Ourselves, our community service project, and a variety of co-curricular clubs afford students the opportunity to grow in spirituality and social responsibility while developing lasting relationships.
Because of the challenging nature of all of our classes, from our solid and well respected College Preparatory courses, to our many Honors and Advanced Placement offerings, St. Thomas students develop time management and study skills which help them to succeed in high school and beyond. Every year, students who graduate from St. Thomas enter challenging fields of study at many of the country's top colleges and universities. Students will leave St. Thomas confident that they have attained the skills necessary to thrive at the college of their choice.
Quick facts
Housing Options: Family Homestay
Tuition and Fees: specific tuition and cost information available from your in-country representative
ESL: Yes
Specific Application Requirements:

Grade levels 9-12
GPA of 3
SLEP score of 40
Skype interview required

School Website: www.stalux.org