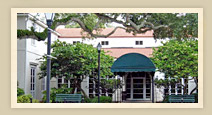 St. Edward's School
Location: Florida
Biography
Saint Edward's School, founded upon the independent Episcopal school tradition, is a co-educational, pre-kindergarten through grade twelve, college preparatory school committed to educational excellence. To empower each child to reach his or her full potential, the School community promotes an environment of advocacy, challenges the whole student, cultivates moral courage and spiritual growth, and inspires a lifelong passion for learning.
By identifying strengths in each student and encouraging him or her to pursue personal interests and intellectual curiosities, Saint Edward's nurtures and develops the "whole student." Through enrichment classes, clubs, and athletics, students explore areas of personal interest and learn the development of skills. Through this comprehensive outreach, we believe we are helping our children grow into adults with exceptional analytical skills, poised to balance the demands of life and to make informed decisions.
Saint Edward's AP program serves outstanding students who wish to study college-level courses while in high school. We offer AP courses to promote students to the next level in college or enable them to receive college credit.
Quick facts
Housing Options: Family Homestay
Tuition and Fees: specific tuition and cost information available from your in-country representative
ESL: Yes
Specific Application Requirements:

Grade levels 9-12
GPA of 2.5
SLEP score of 40
Skype interview required

School Website: www.steds.org