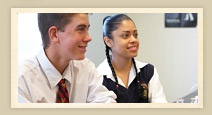 North Broward Preparatory
Location: Florida
Biography
North Broward Preparatory School (NBPS) delivers students the preeminent college preparatory educational experience in Florida. With college-placement services beginning as early as middle school, NBPS boasts a 100 percent college-acceptance rate with recent graduates heading off to schools like Columbia, Cornell, Duke, Harvard, MIT, Notre Dame, and Princeton.
NBPS exemplifies the "whole child approach" that is a hallmark of Meritas family schools by emphasizing the perfect balance of a strong academic program with a broad array of extracurricular activities, both within a learning framework that values local community involvement as well as multi-cultural and international experiences.
NBPS features an 8:1 student-to-teacher ratio with maximum class size limited to 18, ensuring that our students have prime access to the top faculty in South Florida private education. Our nearly 80-acre college-style campus provides a safe and supportive environment for learning. Broad curriculum programs that include 27 advanced placement (AP) courses in 20 separate disciplines, an award-winning fine arts program, 60 athletic teams, a student residential program, an interim program, and a wireless laptop program for all middle and high school students are just a few of the things that place NBPS in the top tier of college preparatory schools anywhere in the world.
Quick facts
Housing Options: Family Homestay
Tuition and Fees: specific tuition and cost information available from your in-country representative
ESL: Yes
Specific Application Requirements:

Grade levels 9-12
GPA of 3
SLEP score of 40
Skype interview required

School Website: www.nbps.org