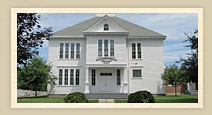 George Stevens Academy
Location: Maine
Biography
George Stevens Academy (GSA) is an independent high school located on the coast of Maine. Grounded in its traditions and commitment to the area's small towns, the Academy is a caring educational community invested in meeting the needs of each student.
The Academy offers a challenging, comprehensive program of studies that fosters intellectual inquiry and the pursuit of knowledge, inspires creativity, develops self-reliance, and prepares its graduates for a purposeful life in an ever-changing world.
GSA serves local high school students, as well as boarding and international students. There are 280 local and boarding students, and 30 international students. Students have many opportunities to participate in athletic and extra-curricular activities.
Quick facts
Housing Options: Boarding
Tuition and Fees: specific tuition and cost information available from your in-country representative
ESL: Yes
Specific Application Requirements:

Grade levels 9-12
GPA of 2
SLEP score of 40
Skype interview required

School Website: www.georgestevensacademy.org